Any Design Facemasks
Colour printed face masks offer your business logo or marketing message in vivid full colour and help by covering faces to reduce spread of germs as well as keeps you from touching your face. Washable & reusable. 
Adjustable Straps.
Double layer fabric face covering, non-medical and ideal for general use.
Fabric: 50% Cotton, 50% Polyester Mask with antimicrobial filtered mid-layer.
Disclaimer: not a medical or clinical face mask. Product design specifications and colours are subject to change without notice and may vary from those shown.
PLEASE NOTE: Due to high demand, pricing and ship time may fluctuate. Please contact us via REQUEST A QUOTE  button to get the latest information. 
Please note: Product is non-returnable. DISCLAIMER: The Premier face covering is designed to aid defence against the spread of infection. It makes no assurances that it can prevent transmission or infection of disease or viruses. It is not a medical or clinical face mask and as such should not be used for this purpose, it should not be used under any circumstances where infection level is high and in any exposure to high level heat sources or combustible substances. Remove and do not use mask if you are suffering breathing difficulties or skin irritation.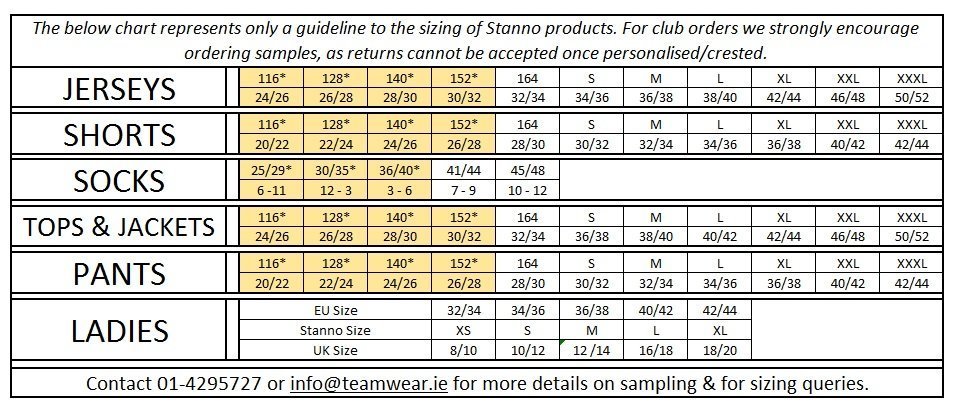 **Slim Fitting**
Some of the Stanno clothing is particularly slim-fitting. For the most part we recommend that our customers move up a size, particularly if you are borderline sizing or would prefer a more relaxed fitting garment. This applies mostly to the Forza Collection and the Riva Collection which are both slim fitting ranges.
**Junior Fitting**
It can be difficult to translate european sizing into terms of age, but the following represents a brief estimation.
116 - 4/5 years
128 - 6/7 years
140 - 8/9 years
152 - 10/11 years
164 - 12+ (senior sizes)
As stated, all these sizes are only an approximation based on an average size child. After all how big is a child? Or how big is an adult?
**Unsure?**
Again, we encourage customers to order samples or contact us if you are unclear on sizing before final order. Call 01-4295727 or email info@teamwear.ie.
Printing & Embroidery
We offer a full printing & embroidery service for orders placed online (minimum of 8 crested pieces). We can embroider your garments with a club/company logo, sponsor text, initials or whichever details you require.
Similarly, we can print jersey numbers, sponsor images, and much more. We outsource our printing & embroidery work to high quality professionals, to ensure an excellent finish and classy job.
Contact us to request a quote on embroidery and we will invoice/quote this service separately.
Call us on 01 429 5727. We can discuss your needs, give you a price, and sort it out.
Alternatively, email us at info@teamwear.ie. We can discuss your needs, give you a price, and complete the customisation.
Bespoke Pieces
We also have a range of fully bespoke, special make up Teamwear. We can create a jersey of any shape and size of any sporting discipline - any colour, any design. We can tailor this entirely to your needs and your requests.
Please contact us for more details on 01 429 5727 or at info@teamwear.ie
Can I return an item?
You may return any item within 14 days in its original condition & packaging for a full refund.
Please note that any club garments or items that have been specially made/personalised cannot be refunded unless such garments are faulty. Likewise, once a name or number has been printed on a shirt we cannot offer a refund exchange. As such we encourage customers to contact us for more details on sizing prior to purchase.
How do I return or exchange an item?
To return or exchange an item by post:
Enclose the following returns slip with your parcel - click here for return slips.
Wrap the item(s) securely & always pack in original packaging if the goods are not faulty.
Complete and enclose the returns slip that was e-mailed (it is essential you complete the returns slip correctly, or we may not be able to provide a refund).
Post the item to the following address:
Pacelli Sports / Teamwear.ie
20A Fashion City
Ballymount
Dublin 12
*For your protection, Pacelli Sports Ltd recommends that you use a recorded delivery service as we cannot be held responsible for goods not received. Please allow up to 14 working days for this to be processed. If you are exchanging an item then please phone us on (01) 4295727 and we will be happy to take your replacement order.